Customer reference: Linde Hydraulics GmbH & Co. KG – Intralogistics of the future
Linde Hydraulics develops, produces and distributes modular drive systems consisting of hydraulics, power transmissions and electronics. Systems of this leading technology provider set the standard in terms of significantly reducing fuel consumption and CO2 emissions. The company has its production locations in Germany and China, an assembly plant in the USA as well as subsidiaries in Europe, USA, South America and China. The technology leader is well established in the field of high-pressure hydraulics at home in Germany as well as internationally. With an extensive network of over 80 sales and service partners, the company has representation in over 50 countries. Around 1,200 employees provide efficient overall solutions with the help of the intelligent combination of hydraulics, electronics and mechanics – in line with the motto: "Turning Power into Motion".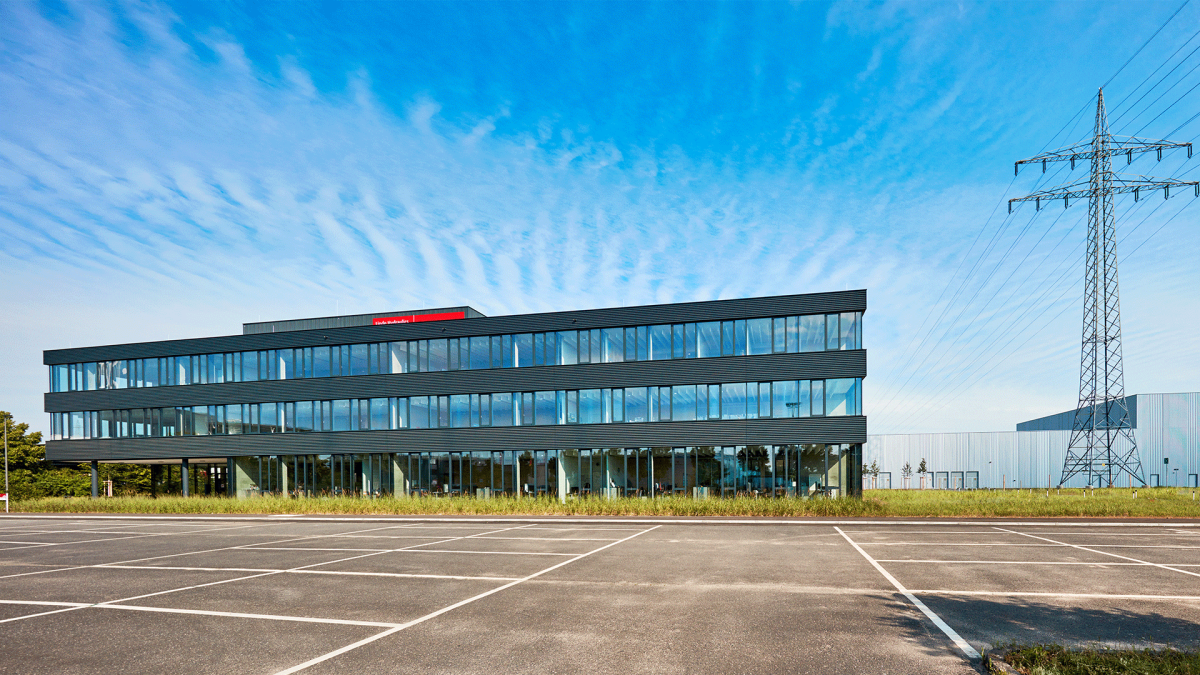 What does intralogistics of the future look like? Would it not be better to rely on fully automated systems, which apply lean management for inventories, automate re-orders and identify any fluctuations in demand at an early stage? This is achieved in a simple and secure manner with the supply of production resources using RFID Kanban.
Objective of the production supply
Supply security through automated re-ordering
24-hour availability
Innovative technologies
Complete transparency of all processes, withdrawals and orders
Safe and needs-based storage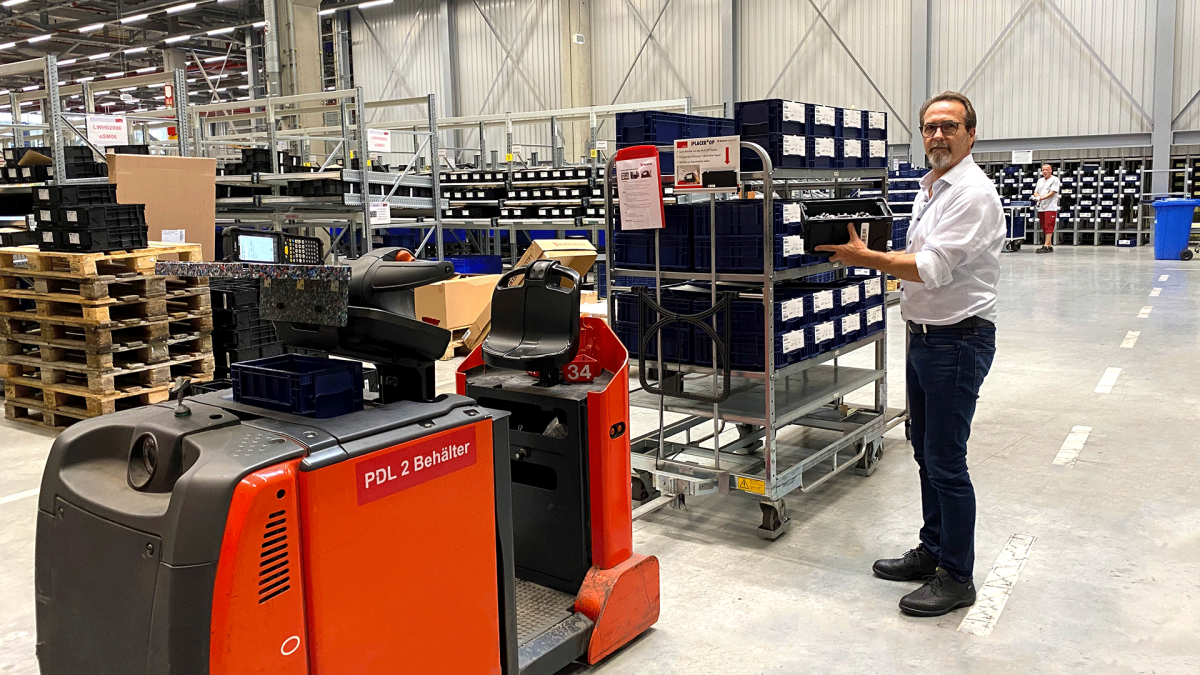 The solution: RFID kanban
One of the top favourites for reordering C-Parts in a flexible manner is the battery-operated iPLACER®. The small handy module has an integrated reader and transmitter and can be placed anywhere – in the production, at workplace, in assembly, in logistics or intralogistics. At the workplace, the device independently triggers an order, as required. On the other hand, if it is attached to any flow rack, the user can map the incoming and outgoing goods, bookings, standing orders and order releases without manual efforts. RFID technology was implemented as order management system as well as inventory management system in iPLACER® for the first time.
Since June 2022, iPLACER® has been ensuring increased productivity at Linde Hydraulics GmbH & Co. KG as well. Christoph Michalla, Head of Logistics at Linde Hydraulics explained its benefits and potentials and also shared the initial successes. "So far, a total of three iPLACER® devices have been installed successfully at our plant in Nilkheim, Germany. We use the module as an autonomous, independent ordering system – and it ensures complete transparency of our consumption and saves the time otherwise wasted in taking long trips to the centralised storage. The fact that the iPLACER® OP (Order Point) is portable and can be fitted at any desired place due to its compact size, is one of the biggest advantages for us. Not only on the load train, but also in the transit area from assembly to the supermarket, the device ensures maximum flexibility", stated Michalla. Recording is also quite simple: Empty bins or Kanban cards with RFID tags are moved past the iPLACER® module and recorded on the order. An acoustic signal as well as a green LED light confirm that scanning was successful. The hydraulics manufacturer has benefitted from using the RFID Kanban in terms of saved time, thus ensuring that the employees are able to fully focus on their core competencies. The benefits are significant: Fully automated order triggering replaces cumbersome stocktaking and reordering at the customer's location. By permanently covering the inventory, any fluctuations and peaks can be identified in time and thus the supply security can be maximised. In addition, the process can be economised significantly, as the high inventory levels can be reduced at the customer's location and thus the space can be optimally utilised without any additional space requirements. Moreover, thanks to the automated reordering, production downtime is now a thing of the past. iPLACER® stands out as a system that can be used flexibly and placed anywhere, depending on the application.
The result: Maximum supply security through highly flexible Kanban systems

"Our hydraulic requirements are streamlined and reordering is done in a fully automatic manner – and without doing anything manually", Christoph Michalla, Head of Logistics at Linde Hydraulics
Further success stories of our supply systems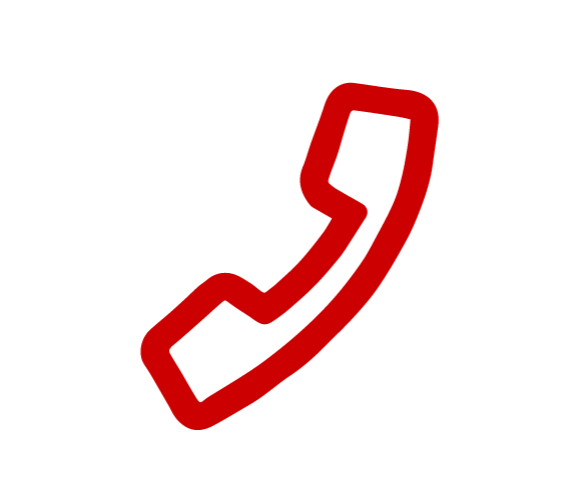 Websites can save or retrieve information in your browser in the form of Cookies. This may be anonymous statistical data, information about you, your settings or devices used, in order to enable a personalised web experience or so that the website works in the way you are expecting it to.
We respect your right to protection of your data. You can therefore decide not to accept certain types of Cookies. For an overview and the settings for the Cookies which we use, please see here. You can change these settings at any time, by invoking our Data protection declaration.
By saving, you confirm that you have understood the settings specified for Cookies and that you agree with them.
The Würth Industrie Service GmbH & Co. KG collects and processes the personal data provided in the form in order to process the requested request for you. Please note the mandatory fields in the forms. The legal basis for this processing, the absolutely necessary data, is Art. 6 para. 1 lit. b DSGVO, implementation of a pre-contractual measure. The processing of data voluntarily provided by you is carried out on the basis of Art. 6 para. 1 lit. f DSGVO. Thereafter, processing is permissible which is necessary to safeguard our legitimate interests. Our legitimate interest is to have contact with you, our customers, to improve our consulting quality and to be able to contact you more easily in case of possible queries. The data collected will only be stored by us for as long as is necessary to process your enquiry and to contact you. They are then deleted.

Supplementary data protection information, in particular regarding your rights to information, correction, deletion, restriction of processing, objection and complaint, can be found in our data protection declaration.