New online platform for Kanban systems launched
To make C-Parts management more efficient for industrial customers, Würth Industrie Service developed a new system. The WIS platform (Würth Industrie Service platform) features a user-friendly interface combining all functions of a Kanban system with full transparency of all processes. Thanks to its multilingual layout, the system can be used at production sites in several countries.
Being a central system for all processes, functions, items and service solutions, the WIS platform of Würth Industrie Service does not only replace the former CPS®ONLINE solution, which has been in place for more than 15 years. The new platform also offers users a future-oriented solution to benefit from all advantages of both the traditional and the RFID Kanban system and apply data in an intelligent manner. This new system developed by Würth was successfully tested at industrial enterprises during several months and will be implemented at customers all over Europe. At the moment, the entire platform is available in English and German. The implementation of more languages is planned for the next development stages.
Complete transparency in C-Parts management
Using the WIS platform, customers can access all logistics processes of their Kanban system at any time. Essential information such as filling status of bins, upcoming filling dates or the exact location of specific C-Parts in the course of production can be easily retrieved. Also order processes such as drop shipments via third-party suppliers are presented in a well-structured overview. A comprehensive track-and-trace function, entering relevant bin information automatically into the system, provides for full traceability: Where is the bin? When is it filled or delivered? What are the next steps? To clearly mark the bin's status and location, the new platform uses an intelligent color concept. Thanks to a multi-level authorization system, the WIS platform shows exactly the information and functions that are relevant for the respective user. The system can also define ordering and invoicing procedures and/or production-related data management for the according target group.
Review and analysis
To determine optimization potential regarding demand and consumption of C-Parts, the WIS platform offers comprehensive analysis functions. The software collects all bin and item data and generates descriptive diagrams on respective consumption volumes. In addition, the user can quickly retrieve the stock turnover of items. Thus, industrial customers can keep an eye on possible fluctuations in demand at any time and can react to unexpected bottlenecks ahead of time; for instance bins can be shipped to where they are needed from other storage locations. Furthermore, Würth Industrie Service offers the possibility to install an alert function in the system: If stock drops below a critical quantity, the platform will send a warning message or, upon request, even submit an order. To do so, it uses state-of-the-art RFID-Kanban systems. Transmitting data by radio frequency, the iSHELF®, an intelligent shelf, communicates the demand as soon as an empty bin is placed on the shelf. The WIS platform provides all information on all end devices. This ensures maximum supply security in the field of C-Parts.
Your advantages
Transparent information system about all bin movements
Complete overview of all plants and warehouse locations
Track-and-trace function provides information on filling date and filling articles
Detailed analysis functions (consumption quantity, turnover rate of certain articles)
Direct orders in case of extraordinary demand peaks
Multi-level authorization concept for your employees
Six language versions available in future for international production sites
Availability of material and testing certificates
electronic download function for invoices, delivery notes, order messages and article data lists in all common formats
Previous version CPS®ONLINE
CPS®ONLINE
CPS®ONLINE, the previous version of the WIS portal, will be switched off at the end of 2019. If you would like to use the WIS portal in the future and gain access to all analysis and documentation functions, please get in touch with your contact person in our company.
CPS®KANBAN
Production supply
The use of Kanban technology offers maximum security. Through automated, demand-oriented orders, it is the ideal solution for an efficient supply with production materials.
CPS®miLOGISTICS
Supplier integration
With our solution CPS®miLOGISTICS you use our proven Kanban systems also for the supply of non Würth parts.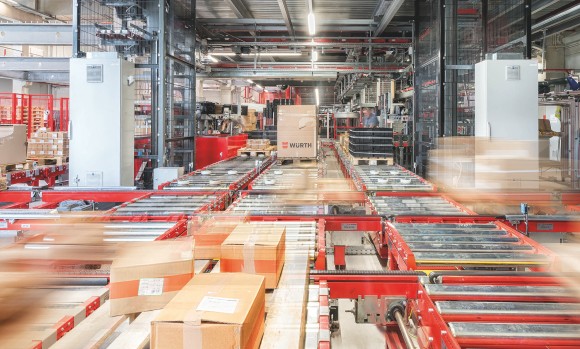 Linchpin
Our logistics
Our logistics is the basic prerequisite for a secure and efficient supply of C-parts. Explore our logistics centre with a 360° video and learn more about the used technologies.