The perfect job. With certainty.
Are you looking for a suitable job which corresponds to your interests, capabilities and talents? Then you are in the right place at Würth Industrie Service. Learn more from Nadine Faul, Team Lead - Recruiting at Würth Industrie Service, about what it means to have found the perfect job.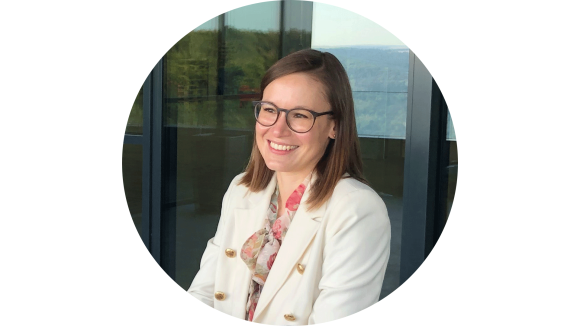 My perfect job. With certainty.
"One thing is clear: The definition of a perfect job is different for each person. I can say for myself that I have found the perfect job with certainty. I say this, not because I am the Team Lead in the Recruiting division, but because I have experienced it in my 10 years at Würth Industrie Service."
Nadine Faul, Team Lead - Recruiting at Würth Industrie Service
Plenty of development opportunities and greater degree of freedom
For me, "The perfect job. With certainty." means that I can work independently on tasks with responsibility and have a high level of creative freedom. For me, this includes new and exciting projects and tasks which contribute towards the value chain. An organised and structured way of working which at the same time leaves space for ideas - simply trying them out and see what the outcome is. In this process, life-long learning with the help of individual opportunities of internal as well as external trainings and further development is important for me. Your career here starts with an individual training. Likewise, "being allowed to make mistakes" and a good feedback culture associated with it are a part of the perfect job which enables me to work on my areas of development and consistently improve myself."
A community working together
"As we clearly spend as much time at work as with our family, the people around me are also a part of the perfect job. It's great, that people around you are not perceived as "only" a colleague, but someone with whom you can develop a friendly relationship over time. A lunch together in the company canteen, dinners and picnics as a team along with our office parties like the Summer-Tour or Christmas party contribute towards this. We manage to "create memories together" in small day-to-day things too. The fun and laughter together in the office over private or business anecdotes makes you look forward to going to work."
A secure employment for the future
"Along with a suitable job, a secure employment is fundamental for me. A permanent contract right from the start is a part of that. Moreover, it is especially important that the employer is financially stable to compensate for periods of economical recession while safeguarding the employees' jobs. During the economic crisis of 2009, I was not yet working at Würth Industrie Service. However, I know that no colleagues lost their jobs, in spite of the immense economic losses. I personally witnessed the Covid-19 pandemic while working at Würth Industrie Service. Even in the difficult times like these, no colleagues were laid off. I was always sure that our jobs are secure and will stay so in the future."
The people are the focus
"Along with job security, it is very important for me to know that people are the focus at Würth Industrie Service. For me, this too counts as a part of certainty. It also means having the certainty to not have to abandon personal issues, but rather to know that help will be provided as much as possible in order to find a solution. We all are not immune to changing circumstances in life. But to know that I am not standing in front of a closed door gives me a sense of security."
An employer with attractive benefits
"Additionally, the framework conditions also play a very important role for the perfect job. For example, flexible working hours, individual part-time work provisions and work from home option as well as art, cultural and health benefits, company pension plan, allowance for holidays and Christmas as well as profit-sharing bonus and financial reward for long-standing service to the company and many more attractive social benefits. The complete package ultimately makes this job the perfect job for me."
Websites can save or retrieve information in your browser in the form of Cookies. This may be anonymous statistical data, information about you, your settings or devices used, in order to enable a personalised web experience or so that the website works in the way you are expecting it to.
We respect your right to protection of your data. You can therefore decide not to accept certain types of Cookies. For an overview and the settings for the Cookies which we use, please see here. You can change these settings at any time, by invoking our Data protection declaration.
By saving, you confirm that you have understood the settings specified for Cookies and that you agree with them.
The Würth Industrie Service GmbH & Co. KG collects and processes the personal data provided in the form in order to process the requested request for you. Please note the mandatory fields in the forms. The legal basis for this processing, the absolutely necessary data, is Art. 6 para. 1 lit. b DSGVO, implementation of a pre-contractual measure. The processing of data voluntarily provided by you is carried out on the basis of Art. 6 para. 1 lit. f DSGVO. Thereafter, processing is permissible which is necessary to safeguard our legitimate interests. Our legitimate interest is to have contact with you, our customers, to improve our consulting quality and to be able to contact you more easily in case of possible queries. The data collected will only be stored by us for as long as is necessary to process your enquiry and to contact you. They are then deleted.

Supplementary data protection information, in particular regarding your rights to information, correction, deletion, restriction of processing, objection and complaint, can be found in our data protection declaration.